VHF and CCR
VHF and CCR
Very High Frequency and Restricted Radiotelephone Operator Certificate
Radiotelephony on a ship, called VHF, makes it possible to warn in the event of a problem, request assistance, communicate between ships, but also to receive the weather. It is therefore an essential piece of equipment for safety at sea.
There are fixed VHF similar to car radios and portable VHF similar to walkie-talkies
VHF can include optional features such as "DSC" and "AIS" as options
a) DSC (Digital Selective Calling) allows you to send digital messages instantly (a bit like SMS). The advantage is that coupled with GPS (Global Positioning System), it allows you to automatically send in the message, in addition to the identification, the exact position of your vessel.
b) AIS (Automatic-Identification-System) It allows you to know or recognize the name, position, MMSI identification, speed, heading, etc... of all vessels within VHF range (average 25 miles) and if coupled to GPS, it displays on your map their position and track, (as well as or better than radar and more complete) thus preventing any risk of collision, especially in fog.
VHF waves travel through Semaphores, antennas located all over the coast. They can be relayed or amplified by relays, such as some army or merchant navy ships. The range of a VHF, depends mainly on the coast and the quality of the antenna on the boat...
The average range for a fixed VHF is about 25 miles and 5 miles for a portable VHF.
Regulation :
To be able to use a VHF in international waters, the CRR (Restricted Radiotelephone Operator Certificate) is mandatory.
To be able to use a VHF in French territorial waters:
1) For fixed VHF over 6 watts or portable DSC VHF, the CRR or coastal licence is mandatory.
2) In the case of a fixed VHF of 6 watts or less or a non-DSC portable, no permit or certificate is required.
In France, it is the ANFR (Agence Nationale des Fréquences) which issues the CRR, and which manages the licence numbers; each VHF has a licence number, associated with the boat called MMSI (Maritime Mobile Service Identity).
The main channels
VHF allows us to "listen" on different channels, (a bit like on a radio set) and also to transmit on the same channels, the main ones being.
16 is the main channel.
This is the international channel. The one all boats are supposed to listen to. It therefore makes it possible to contact
another boat, to then clear another channel, but also to send a request message
help in case of problems. (Channel 10 for the river)
06-08-72-77 : Vessel / Vessel
Allows you to chat with another boat. You initially place yourself on the 16, call another station or a
other boat, then together you agree to switch to one of these 4 channels, to avoid cluttering up the 16.
09 : Harbor / Marina
Allows you to contact the port to ask, for example, if there is a berth for your boat for the night.
10 : Semaphore
To contact a specific semaphore.
13-67-68 69-79-80 : Clearance lanes reserved for CROSS
NB: The Grau du Roy bridge operator use canal 73 to correspond with boaters during manoeuvres.
The CROSS
Channel 16 is managed by the Army, through the CROSS (Regional Operational Surveillance and Rescue Centres).
The CROSS' missions are to coordinate rescue operations and broadcast safety information (weather, hazards, etc.). They are available day and night to intervene in case of emergency.
In case of a request for assistance, it is not necessarily them who intervene, they can very well solicit ships near an area to intervene (so why not you!) or call upon the SNSM (an association of volunteer sea rescue workers).
CROSS announce the broadcast of regular weather reports and invite boats that wish to listen to them to switch to another channel. For example: "This is CROSS Med (the Mediterranean cross country) which will broadcast a weather forecast on channel 80". The channel to switch to and the broadcast times depend on the navigation area.
In the event that the weather deteriorates with gale force winds in excess of 7 Beaufort in the 20-mile coastal zone, the CROSS broadcast Special Weather Reports (BMS) on channel 16. These BMS are repeated every hour as long as they are current.
No more excuses, you have to stay tuned on 16!
Of course you must use Channel 16 to call another ship or station, and it will pick you up, since everyone is also watching Channel 16. But as soon as you have made contact, you must clear out on So you can contact your friends on Channel 16 and ask them to clear another channel for the rest of the conversation, on 72 for example. But be careful, everyone can also listen to 72, it's not a private channel!
There are five CROSS in Metropolitan France:
1) Gris-Nez (East Channel/Pas de Calais)
2) Jobourg (Central Channel)
3) Corsen (Western Channel)
4) Etel (Atlantic)
5) La Garde (Mediterranean9
as well as a sub-CROSS (Aspretto Corse).
How it works
This is a fixed VHF model. (which I personally use with complete satisfaction). We will see the main keys found on most devices. Of course, in case of differences, I invite you to refer to your VHF manual.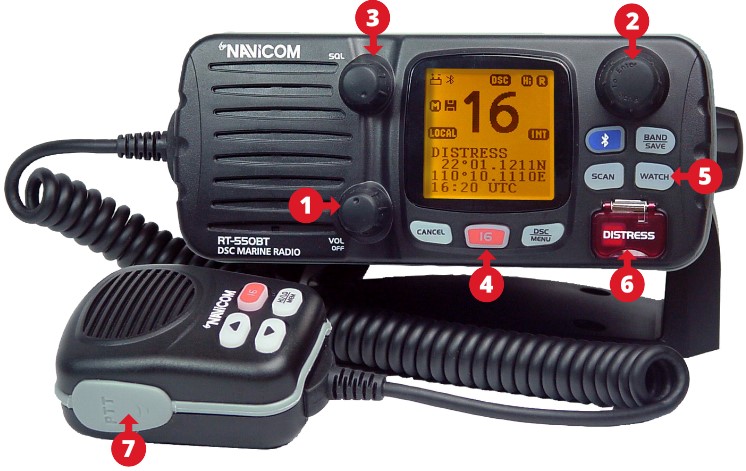 1) ON / OFF + Volume: the volume at 0 turns the radio off. By turning to the right you can adjust the volume.
2) Channel: Turn the knob to choose the channel to listen to or broadcast on.
3) Squelch:.Receiving adjustment knob. To adjust properly, turn the Squelch completely to the left, it will make a "pschhhhh". Now turn gradually to the right until the "pschhhhhh" stops. As soon as that happens, your radio is set up properly!
4) 16: Shortcut key to listen / transmit on the main channel, on 16.
5) Watch: Some VHF radios allow you to listen to two channels simultaneously (16 + another of your choice). Usually, just place yourself on the channel you want to listen to and press "Watch" to listen to that channel in addition to 16.
6) Distress: button protected by a small flap, allowing an emergency message to be sent via the ASN. The screen then asks you what type of problem you are experiencing.
7) PTT (Push To Talk): button you press to talk. Be careful, we each speak in turn (simplex mode), unlike a phone or we can talk at the same time.
- Hi / Lo (visible on the screen): allows to transmit and receive with more or less power (and therefore range). In "Hi" (high), the power is 25 watts, in "Lo" (low) the power is 1 watt (so rationally 25 times less powerful). However, be careful when using your radio in "high" mode because it is very demanding on your battery.
To communicate :
To speak to the VHF, you must follow the following procedure in the order indicated:
1) 3 times the name of the called party (ship name, or port name)
2) 3 times the name of the caller or the name of your boat.
3) Ask the called person if they receive you.
4) Wait for confirmation of receipt by the called party or renew the contact request if there is no response.
5) Send your message as clearly, briefly and concisely as possible.
Example of a call conversation at the Harbour Master's Office (Channel 9):
Q)-PORT CAMARGUE, PORT CAMARGUE, PORT CAMARGUE de LILOT, LILOT, LILOT, do you read me?
R)-Yes LILOT I receive you, over to you! ("to you" indicates that we are waiting for a response in return).
Q)-Do you have a place for this night? we are a 30-foot boat with a draught of 2 meters.
Example of a conversation with another ship (Channel 16):
-TRANQUILOU, TRANQUILOU, TRANQUILOU de LILOT, LILOT, LILOT, (TRANQUILOU and LILOT are the names of the ships)
- Yeah LILOT, what are you doing ? We're waiting for you for the fishing trip!
- OK TRANQUILOU, we clear on Channel 72 for the following, 7-2 (the fact of unpacking "72", number by number makes it possible to ensure that TRANQUILOU has understood the chosen clearance channel number, because at sea, we may not always receive everything (or loud and clear 5 out of 5),
Also, during the message to reinforce the understanding of words, (name of the ship, call sign, abbreviation), it is recommended to spell the words or numbers using the international radio alphabet, (NATO Phonetic Alphabet, recalled at the end of this article)
So for example LILOT will be spelled LIMA-INDIA-LIMA-OSCAR-TANGO.
Alert messages
There are 3 types of messages, related to security. They are as follows, in descending order of priority:
Distress: MAYDAY (Absolute Priority Level 1)
Serious and imminent danger: major water ingress, fire, person in danger....
Structure of a distress message:
MAYDAY, MAYDAY, MAYDAY, (pronounce medicated medicated medicated medicated)
ICI LILOT, LILOT, LILOT, (name of the ship)
- ship position,
- nature distress,
- assistance requested,
- number of persons on board,
- intentions of the captain,
- any information to facilitate rescue
TO YOU
Emergency: PAN PAN PAN (priority Level 2)
Failure on the vessel (engine, rudder...), injured on board.
Structure of an emergency message:
PAN-PAN, PAN-PAN, PAN-PAN, (pronounced "pane-pane")
TO ALL, TO ALL, TO ALL,
ICI LILOT, LILOT, LILOT, (name of the ship)
- ship position
- nature of the emergency
- relief requested
- intentions of the captain,
- information to facilitate rescue
TO YOU
Security: SECURITY (priority Level 3)
Navigation can be dangerous in an area: container drifting, weather with wind above 7 Beaufort....
Structure of a safety message:
SAFETY, SECURITY, SECURITY,
TO ALL, TO ALL, TO ALL, THIS IS LILAC, LILAC, LILAC, - text of the safety message
TO YOU
International Radio Alphabet
(NATO Phonetic Alphabet)
| Letter | Phonetic letter |
| --- | --- |
| A | Alpha |
| B | Bravo |
| C | Charlie |
| D | Delta |
| E | Echo |
| F | Foxtrot |
| G | Golf |
| H | Hotel |
| I | India |
| J | Juliet |
| K | Kilo |
| L | Lima |
| M | Mike |
| N | November |
| O | Oscar |
| P | Papa |
| Q | Quebec |
| R | Romeo |
| S | Sierra |
| T | Tango |
| U | Uniform |
| V | Victor |
| W | Whiskey |
| X | X-ray |
| Y | Yankee |
| Z | Zulu |
Would you like to take your CRR? or complete your knowledge? Visit the ANFR website:
https://www.anfr.fr/licences-et-autorisations/radiomaritime/le-crr/
Translated with www.DeepL.com/Translator
Have a good navigation
Gil Romain Berninet
Vice President Association Marina Port du Roy