Getaway in Occitanie
Getaway in Occitanie
We love the off-season, it offers some additional amenities related to this time of year: easy traffic, hotels and restaurants happy to welcome you and museums without endless queues.
It is said and written, we leave on November 10 for a five-day trip to Aveyron.
We join the A75 for a first visit to the Cirque de Navacelles. Great, surprising as well as the road that goes down there
The site is almost deserted, as is the village that is built at the bottom of this geological curiosity.
I can't help but think that men will not always build their habitat in the easiest places.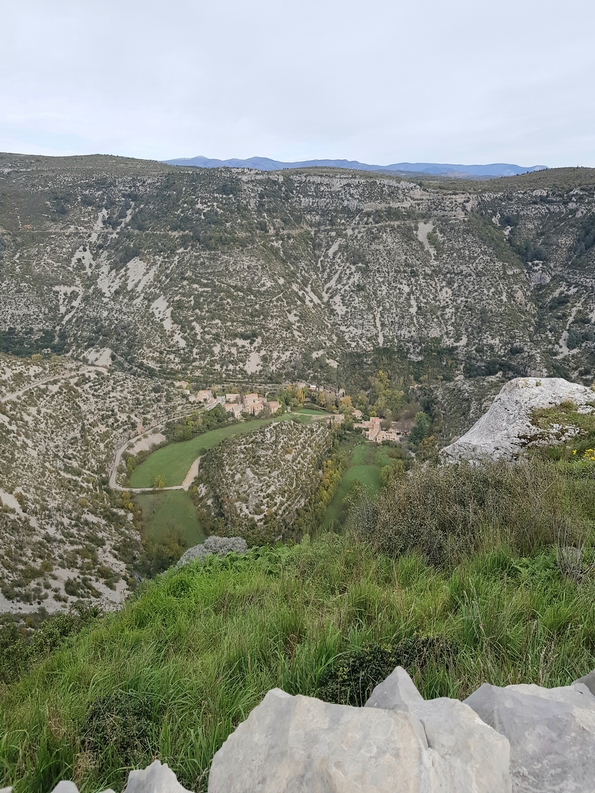 Cirque de Navacelles
Then we head for La Couvertoirade, a village of Templars surrounded by a wall. We plunge into a resurrected Middle Ages.
It is easy to have lunch and just as easy to find accommodation in a gîte.
Remarkable village, perfectly restored, full of craftsmen and only accessible on foot. Cars are parked upstream from the village in a paid parking lot in the summer.
We already have one foot in the Larzac at an altitude that amazes me, 807 meters.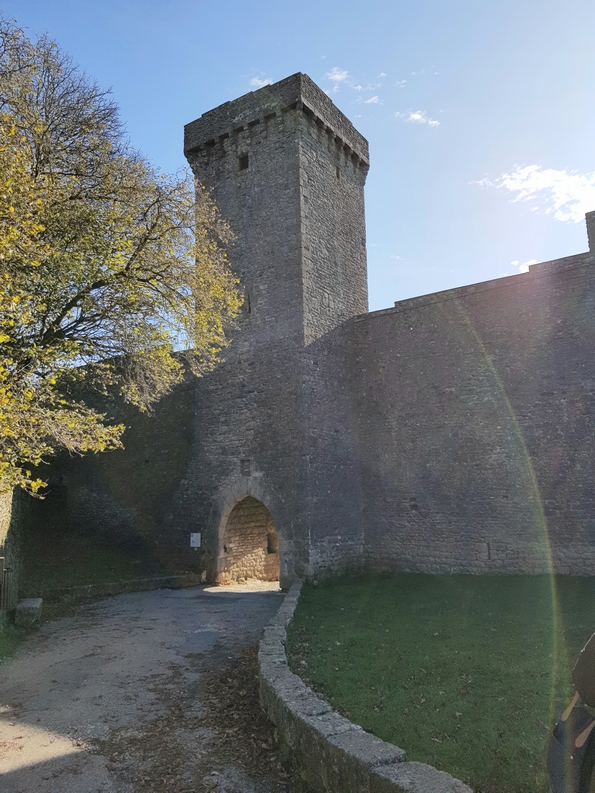 Main gate in La Couvertoirade
Then we head to La Cavalerie, a high place of anti-militarist protest in the 1970s. Everything has calmed down, time has done its work. The 13th DBLE (13th Half-Brigade of the Foreign Legion) has settled there without any problem and is invigorating the region with a very substantial financial and human contribution.
We discover, and that is the word, a fortified city inside La Cavalerie. We had once most certainly passed in front of it without stopping and found the entrance to this city that cannot be discovered at first sight.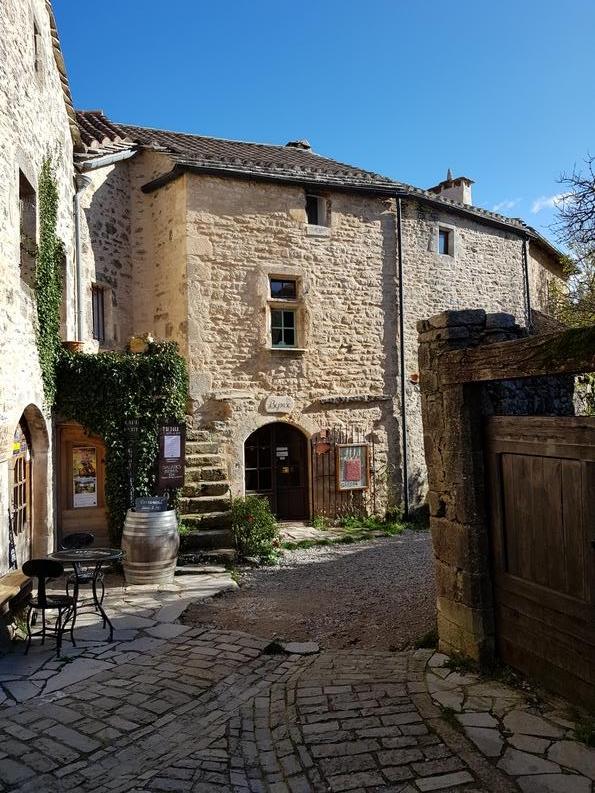 A lane in the village
We go down to Millau by the road before the viaduct. Very mobile, it offers many lookouts that allow you to admire the viaduct and steep cliffs on the other side of the road.
We enthusiastically visit Millau. The Glovemaking Museum is closed at the time of our arrival but we discover two very modern glovemaking factories. The pairs of gloves on display are very beautiful, some of them very colourful, and we cannot help but draw a parallel with the Souleiado brand in the use of patterns and colours.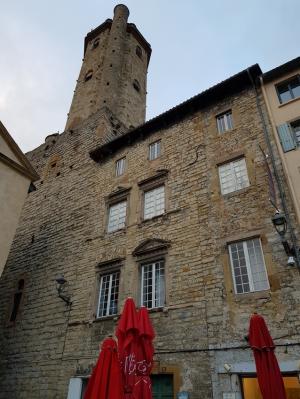 Millau
We are a little tired after walking around the city. At the hotel's restaurant, we discover a 3-star hotel at 58 euros per night with free parking, a modern and very clean room, a small opening on the Aveyron cuisine that seduces us completely. The staff is charming, attentive and we have a very good night.
We promise to visit Montpellier le Vieux and its Chaos de pierres the next morning but the hotelier tells us that this is a private site closed from All Saints' Day to Easter. We still go there in the hope of getting a glimpse of this curiosity that a very recent television report highlighted.
We allow ourselves to enter the site, which is in fact barrier-free for pedestrians, and walk around for about twenty minutes, then we decide not to violate its closure any longer and return to the car.
Direction the Gorges du Tarn, grandiose. The road is beautiful and deserted and we drive at a walking pace, impressed by the landscape. We discover a few hamlets on the other side of the river that are supplied with goods by a cable car. People cross the river by boat but even with good arms and a great enthusiasm for rowing I don't see how a crossing that day would have been possible.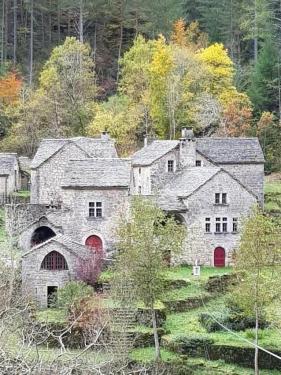 Village supplied by cable car
We will spend our 2nd night in Rodez and there again after a great walking tour of the city we decide to dine at the hotel and continue to discover the Aveyron cuisine. We are not disappointed.
Rodez is a well restored city in its centre, the cathedral is very beautiful and embellishment work is continuing everywhere. We are really happy to visit Rodez, especially as we discover the mandarelle, a typical cake imitating the rose window of the cathedral, which can be kept without particular care, succulent, and which will delight us for two days at each small hunger.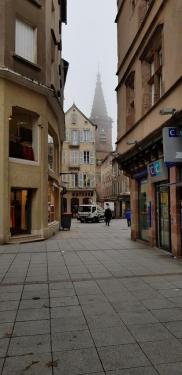 a street in Rodez with the Cathedral
The Soulages Museum is still closed when we go there the next morning but a number of works by this painter born in Rodez can be seen at the Fabre Museum in Montpellier.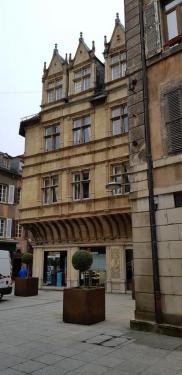 in Rodez
I am amazed by the love shown by all these Mayors for the preservation of their city's heritage. This region is far from being the richest in France but everywhere we can admire the effects of a policy of enhancement of old buildings, urban planning and construction of modern buildings in old districts and probably very dilapidated in the respect of a regional architecture that in no way detracts from the aesthetics of these towns and villages.
We leave Rodez, very quietly, to visit some villages classified as "most beautiful villages in France".
The first on our route is Saint Côme d'Olt (Olt means Lot) because this village stretches along the Lot.
It is an enchantment both for the quality of the restoration and for the architectural beauty of these residences. We like this architecture that combines pink sandstone with white stone to support beautiful houses, many of which are cottages. The only economical alternative to the cost of catering.
We continue with the abbey of Bonneval founded in 1147. About twenty nuns hold this immense abbey at arm's length, very well restored and maintained. It can be visited free of charge and welcomes visiting guests to its hotel.
Since 1878, the Nuns have been making very good chocolate in the form of very refined bars and boxes, made from different liqueurs, filled chocolates and many others, visible on the site. It is possible to have an order delivered by post. We buy some, a way for us, in addition to the pleasure of eating it, to thank them for having restored this abbey and to give us the pleasure of visiting it.
We continue with Estaing where a former president of the republic had his castle. It now belongs to a foundation. We think that this man's leg has greatly contributed to Estaing being named in the directory of the "Most Beautiful Villages of France", but this appreciation is personal to us.
We will spend the third night in Entraygues. Charming village that welcomes us in its charming hotel. We are housed near an 11th century bridge and splendidly restored, it is now pedestrian.
The hotel has a swimming pool (closed at this time of year), a jacuzzi, a spa, a hammam but we will not enjoy it. On the other hand, we will settle in the beautiful room of the restaurant and sadly for the hotelier he will serve only three place settings for the whole evening.
The next day it will be Conques. It is not to be described, it is to be discovered so beautiful and it is worth a trip.
After Villefranche de Rouergue, Najac, an astonishing street village with its houses built on stilts in front and its medieval castle on the other side of a small valley. We walk there, we alternate descent and good climb to finally reach our Grail.
Najac is beautiful. Then Cordes sur Ciel seduces us at the end of the day. We buy a pottery that will look great in a new apartment we just bought.
In fact in this journey we went from enchantment to enchantment in every way.
Fourth and last night in Albi. This time we decide not to take our meal at the hotel and find a charming restaurant that plays old records of Brassens, Leo Ferré and Jacques Brel. We spend a pleasant evening there and then we resume our visit of the city, just to live it all enlightened. The cities are different by day and by night, you will excuse me for this Lapalissade but the atmosphere changes completely, so that from a first city we visit a second one.
The next morning we go to the cathedral. Monumental, entirely painted inside, which is exceptional. We look for the boiling arches of this Gothic cathedral without seeing them. We will later discover that they are integrated into the cathedral enclosure: Impressive.
The return to the house is made by joining the A75. The snow has fallen on the Larzac plateau and oh miracle, the thermometer is coming up. We often walked during this trip, warmly dressed because the temperature was around 2 to 4 degrees, but without suffering from the cold. Just think of Siberia to put it into perspective. And yes, very close to our shores, from about sixty kilometres away there is a Massif Central that has nothing Mediterranean about it. The contrast is striking and this trip, which was very enriching for us, was a complete change of scenery.
Translated with www.DeepL.com/Translator (free version)